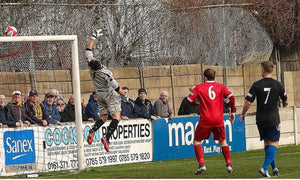 TRANSITIONING TO NON-LEAGUE/SEMI-PRO ⏭️
Something that a LOT of players will experience at some point in their career, often at the tender age of 18, following a release from a Pro Club. At the time, you feel that you are prepared for it; but looking back as a now mid-twenty-year-old…you are just a baby in hindsight. A daunting time, as you are thrown into the vast depths of Men's football, usually with a lack of contacts and credibility. This DOES happen to players who have been in the professional game for years, and all of a sudden, are cast aside to find pastures new. Rule of thumb would suggest that most professional players with a few years behind them will have built a base of contacts and will have the help of trusted agents, however as we are aware, this is not always the case.

𝐏𝐎𝐑𝐓𝐑𝐀𝐘𝐀𝐋
A thing to remember once you have fell out of the "Professional Game", is that to those that know you, you are THE football player. THE kid who was meant to earn all the money, making it in the beautiful game. HOWEVER IN REALITY, No matter the academy you were at for whatever length of time; you have no right to be having clubs lining up for you. That is just how it is, and you have to take what you can when it arises…otherwise some other kid will. Put yourself out there, everyone has to start somewhere.

𝐑𝐄𝐒𝐎𝐔𝐑𝐂𝐄𝐒
There are resources that players have now, that those who played back before 2010's may not have had. Social Media is HUGE for self-promotion and getting in the public eye. Along with the likes of PFA Transfer List, where numerous non-league clubs have access to released players details. The GKN try to play our part in aiding GK's specifically in their search for transition, promoting any and all GKs who need assistance, along with providing a support network. There is always something more that can be done to help those who have been released, it will always effect people differently, as everyone is their own person. We MUST make sure we are there for anyone who needs the aid. I personally am and always will be available to chat to about any issues, football related or general life. 
It is important to recognise that it can be a very lonely/frustrating place in this period of your career, so please do not feel that you cannot reach out to others. At the bottom of this blog, is the 24/7 helpline for The PFA.

𝐓𝐀𝐒𝐓𝐄 𝐎𝐅 𝐍𝐎𝐍-𝐋𝐄𝐀𝐆𝐔𝐄
If you are/have been at a professional club, you may experience a Youth Loan, to a club that is commonly at step 3-4. This can really open your eyes to the world of non-league, and proactively help you in your progression, away from the non-competitive environment that youth team games can bring.

My personal Youth Loan, was being sent out to Evo-Stik Side, Droyslden FC. At the time, they had conceded well over 200 goals, and were rock bottom of the league, 0 points to their name by February time. Low and behold, my 2nd game for them was away against the high flying Chorley FC side, of which by 4:45pm, I had conceded 13 and was mentally gone. Talk about opening your eyes to Non-League, and the HUGE difference in competitive league football. I'd never had the feeling of being intimidated by fans, but it taught me the meaning of being a boy in a men's game. 


Not everyone's first non-league experience will go as badly as that, and each will take something different from it. 𝘞𝘩𝘦𝘵𝘩𝘦𝘳 𝘪𝘵 𝘣𝘦 𝘵𝘩𝘦 𝘢𝘧𝘰𝘳𝘦𝘮𝘦𝘯𝘵𝘪𝘰𝘯𝘦𝘥 𝘧𝘢𝘯𝘴, 𝘵𝘩𝘦 𝘨𝘢𝘧𝘧𝘦𝘳 𝘰𝘳 𝘵𝘦𝘢𝘮𝘮𝘢𝘵𝘦𝘴 𝘴𝘵𝘳𝘪𝘯𝘨𝘪𝘯𝘨 𝘺𝘰𝘶 𝘰𝘳 𝘢 𝘵𝘦𝘢𝘮𝘮𝘢𝘵𝘦 𝘶𝘱 𝘧𝘰𝘳 𝘴𝘰𝘮𝘦𝘵𝘩𝘪𝘯𝘨…𝘺𝘰𝘶 𝘸𝘪𝘭𝘭 𝘭𝘦𝘢𝘳𝘯 𝘵𝘩𝘢𝘵 𝘧𝘰𝘰𝘵𝘣𝘢𝘭𝘭 𝘣𝘦𝘯𝘦𝘢𝘵𝘩 𝘵𝘩𝘦 𝘩𝘪𝘦𝘳𝘢𝘳𝘤𝘩𝘺 𝘰𝘧 𝘵𝘩𝘦 𝘗𝘓 / 𝘌𝘍𝘓…𝘮𝘦𝘢𝘯𝘴 𝘫𝘶𝘴𝘵 𝘢𝘴 𝘮𝘶𝘤𝘩.

As much as a bad day that was for me, it was experience that I needed at the time, and that I am actually thankful for now, as I can look back and see that it was a huge factor in my footballing education, and that I was in fact paying my dues, for further down the line.

Fast forward 5 years, and July 4th, I was a play-off winner. That's for another blog though...
07500 000 777 - PFA Helpline
---