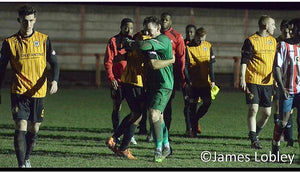 MENTALITY AFTER A BAD RUN OF FORM 💭
Name me a position in sport that is more mentally challenging than being a Goalkeeper in a Football team. There is no getting away from the fact that it is the most mentally challenging position on the pitch.
You often see a very similar pattern occur as you progress through the leagues, mainly from mistake that costs a goal. From this, they will often go chasing that one REDEMPTION save, that one REDEMPTION piece of distribution. More often than not on the latter, it will be rushed as they are tensed and frantic in their actions, therefore causing a mis-kick/throw and further adding to the problem.
As a GK, you are in the fortunate position. The game will ALWAYS come looking for you. You will get your chance to redeem yourself in that 90 minutes. Just don't go chasing it, as it will only add pressure onto you.

This can be said the same for a bad run of form over the course of a few games. It is a probably the most cliché saying in sport, but it DOES ring true. FORM IS TEMPORARY, CLASS IS PERMENANT.

The worst thing you can start to do, is overthink the next game that is coming, the next ball that is coming, the next shout from a player or fan behind your goal is coming.
Bad run of form does not last forever. There is a light at the end of the tunnel. Nothing epitomises this more than this…

It's the 2015/16 season. My first season as a number 1 (3/4 season, I didn't play the first 12 games). New Mills AFC, we hadn't (and didn't) win a game all season. Getting beat by an average of 4 goals every week, it certainly was not an enjoyable experience, but I kept coming back despite the numerous offers higher up the pyramid. The light at the end of the tunnel came in the form of our first point, away at Witton Albion (who were the only team not to take 3 points of us that season…we'll claim the double over them). As a team, we were beat before every game, as there was a constant feeling of a lack of self-belief. But for that one 90 minutes, each minute that ticked by, we saw and felt the belief grow within the squad.

You are only a training session away from re-gaining your form. You are only a save away.
---
1 comment